Name of the country
The Islamic Republic of Iran

Map

Flag

Flag description
three equal horizontal bands of green (top), white, and red; the national emblem (a stylized representation of the word Allah in the shape of a tulip, a symbol of martyrdom) in red is centered in the white band; ALLAH AKBAR (God is Great) in white Arabic script is repeated 11 times along the bottom edge of the green band and 11 times along the top edge of the red band; green is the color of Islam and also represents growth, white symbolizes honesty and peace, red stands for bravery and martyrdom

National Slogan
Independence, Freedom, Islamic Republic

National anthem
name: "Soroud-e Melli-ye Jomhouri-ye Eslami-ye Iran" (National Anthem of the Islamic Republic of Iran)

Capital
Tehran

Geographical coordinates
35 42 N, 51 25 E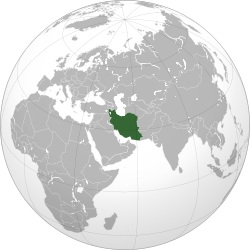 Language
Persian

Religion
Islam

Supreme Leader
Grand Ayatollah Seyyed Ali Khamenei

President
Dr. Mahmud Ahmadinejad

National Day
11 February

Population
75,292,000

Currency unit
Iranian Rial

International dialing code
0098

Internet Domain
ir

Exports
oil, carpet, fruits, dry fruits, pistachios, raisins, dates, leather, caviar, petrochemical products, apparels and dresses, foodstuffs.

Imports
machineries, industrial metals, medicines, chemical derivatives, electronics.

Industries
oil, petrochemical, textile, cement and other materials for building construction, food, automobile, steel, derivatives (especially refining sugar and extracting edible oil),

Agriculture
wheat, rice, grains, fruits, oily seeds, pistachios, almond, walnut, cotton.

Transportation
7286 kilometers of railways and 158000 kilometers of roads.

Pipelines
oil derivatives 3900 kilometer, natural gas 4550 kilometer.

Ports
Abadan, Ahwaz, Shahid Beheshti port, Abbas port, Anzali port, Bushehr port, Imam Khomeini port, Mahshahr port, Turkman port, Khoramshahr, Noshahr.