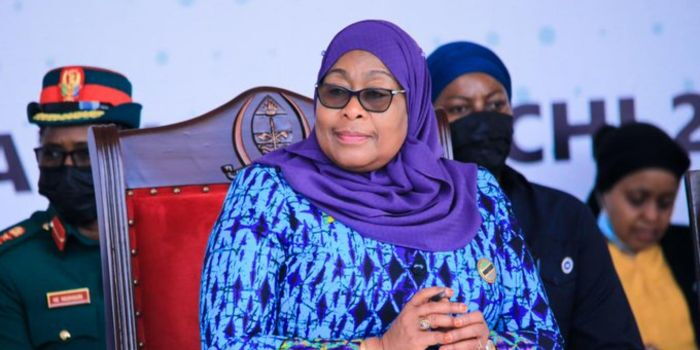 Kenyan Businessmen staged a protest on Wednesday, June 7, blocking the Namanga border over a decision by the Tanzanian Government, headed by President Samia Suluhu, to prevent more than 500 lorries of maize from getting back into the country.



The businessmen lamented that they had already secured cheaper maize for sale in Kenya but the trucks were still stuck in Tanzania for two weeks.


The Suluhu-led government detained the lorries after accusing their owners of lacking valid permits to import the grain.

The traders, however, disputed the accusations insisting that they were issued with a permit while entering the country, enough indication that they were rightfully there.
"When we get to Namanga, we are usually given permits that authorise us to get into the country (Tanzania). We pay all our dues including the Tanzanian tax.

"However, when we get to the border, the authorities bar our lorries from going back to Kenya. People are hungry back home and they need this food," one of the businessmen told the press.


The protestors stated that they were forced to pay Ksh13,915 (100 dollars) for every day that they stayed at the border.

In retaliation, the businessmen parked their lorries up against the border to block all other traffic.

The protesters added that they had not received support from the Kenyan government including from Trade Cabinet Secretary Moses Kuria and his Agriculture counterpart Mithika Linturi.

They claimed that President William Ruto's government urged them to purchase grain from the neighbouring country after making trade agreements. They, however, ended up making huge losses after hitting roadblocks in the process.


"Now and then, the East African leaders notify us that they have opened the market for business between the countries and we encourage the businessmen to go to Tanzania to buy the maize.

"They use so much money in making the purchase but the maize rots even before they get home because of such barriers," a representative of the businessmen stated.

They, therefore, pleaded with Trade and Investment Cabinet Secretary, Moses Kuria and Agriculture Cabinet Secretary, Mithika Linturi, to resolve the matter and release their stock.

"During the two weeks that we have been stranded here, we have not heard CS Kuria, Mithika Linturi or anyone else from the government addressing the matter. Why does nobody seem to care about our businesses?" another protestor lamented.