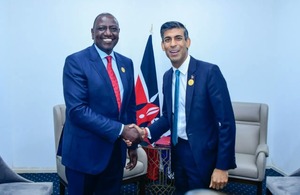 Ground-breaking takes place at Menengai Geothermal Powerplant to provide Kenyans with green and affordable energy.



Ground-breaking takes place at the second green infrastructure project fast-tracked by President Ruto and Prime Minister Sunak at COP27

The installation will generate 35MW of clean and affordable electricity for Kenyans through transparent, predictable and reliable UK investment

The project is another example of Kenya's pioneering climate leadership and the mutual benefits delivered through the UK-Kenya Strategic Partnership

The UK and Kenya have again delivered on commitments made at COP27 to combat climate change, create jobs and generate affordable power for Kenyans.

Ground-breaking has taken place at Menengai Geothermal Power Plant, one of the six green investment projects – worth KES 500bn – that were fast-tracked by President Ruto and Prime Minister Sunak at the COP27 climate summit

The project will be led by Globeleq, a UK company backed by British International Investment.

The geothermal plant will generate 35MW of electricity, providing 750,000 Kenyans with affordable, clean energy.

During construction, it is expected the project will create approximately 200 job opportunities for Kenyan workers. Upon operation, it will provide jobs for 35 to 40 permanent staff and contractors.

This makes it the second project to have construction commence. Exactly one month after the summit in Egypt, construction began at Nairobi Railway City - a green rail-centred urban regeneration project in central Nairobi.

These investments are flagship projects of the UK-Kenya Strategic Partnership – an ambitious five-year agreement which is unlocking mutual benefits for the UK and Kenya.

At the UK-hosted G7 in Carbis Bay two years ago, world leaders committed to build a new Global Partnership for Infrastructure. These projects are examples of predictable, transparent and reliable investments by the UK, which do not load Kenya with unsustainable debt.

UK High Commissioner to Kenya Jane Marriott, said:

This shows that the UK and Kenya go far when we go together – delivering mutual benefits for both our countries. This plant will both advance Kenya's global leadership on climate change, and bring down the cost of power – showing that green growth is good for business, and good for Kenyans.

Background
The UK-Kenya Strategic Partnership
The UK-Kenya strategic partnership joint statement can be found here.

The Ruto / Sunak COP27 Deals
Menengai Geothermal: KES 12.5 billion investment. A 35 MW geothermal project led by GDC and Globeleq which will mark the full development of a field discovered by GDC. The project has a signed and effective Power Purchase Agreement with KPLC that confirms one of the cheapest tariffs for baseload renewable power.

Nairobi Railway City: KES 11.5 billion investment. Construction began in December 2022. A green regeneration of central Nairobi, anchored around a new central rail station connected to Bus Rapid Transit, incorporating the latest innovations in green building technology and planning. The project has been developed with technical assistance from the UK Government and UK architects (Atkins) won the contract to design the new station.

Malindi Solar Expansion: KES 7.5 billion investment. A 40 MW solar plant, constructed by UK company Globeleq with finance from British International Investment, which was connected to the grid in December 2021. Plans will double the size of Malindi Solar and add battery storage – an additional KES 7.5 billion investment - making over KES 15 billion total.

Grand High Falls Dam: KES 425 billion investment. A Public Private Partnership on the Tana River that will generate 1,000MW of hydroelectric energy capacity and irrigation for 400,000 hectares of farmland. Led by UK engineering firm GBM, the project is envisaged to include both a Power Purchase Agreement for clean energy and a Water Purchase Agreement for agricultural irrigation.

United Green: KES 31 billion investment. Climate-smart crop and agro-industrial processing system via a joint venture with Kisumu County that will create 2,000 direct jobs and provide an income for a further 20,000 farmers across counties the Lake Victoria region.

Guarantees: The UK Government, through the Private Infrastructure Development Group, is collaborating with CPF Financial Services and other private investors, including Cardano Development, to launch a new guarantee company that will de-risk investments and unlock private finance from pension funds and insurance companies for projects in Kenya. The UK government will commit KES 2 billion to the company, which will mobilise KES 12 billion of new climate finance for Kenyan infrastructure over the next 3 years.