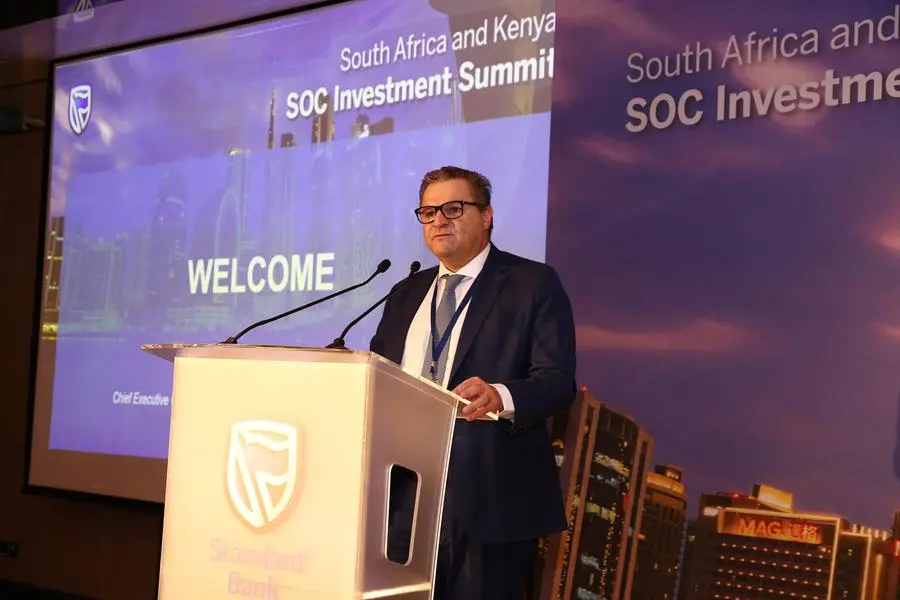 The Dubai edition of the investment summit comes on the heels of a strategic partnership between Standard Bank and DP World to expand trade finance in Africa



Standard Bank, Africa's largest bank by assets, hosted senior leaders from Kenyan and South African State-Owned Companies (SOCs), and leading players from across the UAE's investment landscape at an exclusive investment summit on May 31st at the Waldorf Astoria Dubai International Financial Centre. The Summit in its second edition discussed the growing investment opportunities across Africa's vital sectors such as energy and infrastructure, telecommunications, logistics and transportation, and food and water security.

The Gulf Cooperation Council's (GCC) interest in Africa as an investment destination is rapidly gaining momentum, with the United Arab Emirates specifically, leading regionally in its commitment towards the immense potential in the emerging markets of the continent. The UAE is a leading driver of foreign direct investment across the Africa's instrumental sectors.

To facilitate the increased regional investment appetite and develop strategic partnerships, the summit featured a line-up of top-rated speakers and investment sessions to encourage bi-lateral discussions, drive investment and promote collaboration particularly through public-private-partnerships.

Attendees to the annually held event included senior leaders from the region's financial services landscape such as DP World, First Abu Dhabi Bank, Emirates NBD, Mashreq Bank, A.P. Moller Capital, Siemens Financial Services, in addition to Kenyan and South Africa SOCs such as Kenya Ports Authority, Public Private Partnerships Directorate, South Africa's National Treasury, Development Bank of Southern Africa, Industrial Development Corporation of South Africa, among others.

Kenny Fihla, Chief Executive Officer, CIB, Standard Bank Group, said: "There is a tremendous opportunity for closer economic integration between the Gulf Cooperation Council and African countries working together, especially in sectors such as agriculture, tourism, infrastructure, technology and renewable energy. Globally, we are seeing a renewed interest in accelerating investments in Africa, and expect strong investment flows from the Gulf Cooperation Council, given the continent's growth outlook."

Rassem Zok, Chief Executive Officer, Middle East and North Africa, Standard Bank Group, said: "We are delighted to host our flagship summit in Dubai, a major regional financial and innovation hub that bridges the African-Middle East corridor, and offers the African continent the unique opportunity for stronger access and integration into the regional and global economy. The GCC is well-poised to help advance global economic growth, redefining dynamics and prospects of regional economies, supported by an ambitious economic diversification agenda. As a bank with a 161-year history of driving Africa's growth, we are committed to bridging the gap between African businesses, SOCs and regional investors, and are confident that the summit will act as a springboard for investors that are looking to unlock new funding, business and trade opportunities across Kenya and South Africa."

The summit comes on the heels of a strategic partnership agreement made between Standard Bank and DP World - a global leader in supply chain solutions, offering trade finance solutions jointly with DP World Trade Finance. The partnership makes Standard Bank the first African bank to partner with DP World Trade Finance, and will benefit African businesses which face an ever-growing need for logistics and financial support to connect to global trade routes, by proving seamless access to working capital from Standard Bank via the DP World Trade Finance platform.
About Standard Bank

Standard Bank Group is the largest African bank by assets, operating in 20 African countries and 5 global financial centres. Headquartered in Johannesburg, South Africa, we are listed on the Johannesburg Stock Exchange, with share code SBK, and the Namibian Stock Exchange, share code SNB.

Standard Bank has a 161-year history in South Africa and started building a franchise outside southern Africa in the early 1990s. The group has over 50 000 employees, more than 1 100 branches and over 6 500 ATMs on the African continent, which enables it to deliver a complete range of services across personal and business banking, corporate and investment banking and wealth management.